VERTICAL PLATFORM LIFTS – Ameriglide Nano Vertical Platform Lift – Quick Ship
The AmeriGlide Nano Vertical Platform Lift is the market's slimmest and most elegant tower design, which means a more attractive look, low shipping costs and easier installation.
The attractive Nano Vertical Platform Lift has been designed, developed and manufactured to meet the highest safety and security standards in the industry with an innovated design that features:
Reversible (left or right tower)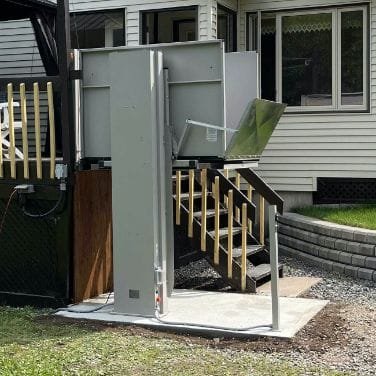 Product Specifications
Lifting Capacity: 800 lb
Standard Lift Height: 64″
Maximum Lift Height: 64″
Lift Speed (FPM): 12
Arrives Assembled: Yes
Drive System: Acme Screw
Battery Powered Option: Yes
Constant Pressure Platform Control: Yes
Emergency Stop Platform Control: Included
Alarm Button: Included
Keyed Platform Control: Included
Platform Type: Non-skid (Epoxy crushed and recycled tires)
Platform Size: 36″ x 54″
Optional Platform Sizes: Custom: W (31″ to 42″) x L (46″ to 66″)
Platform Configuration: Straight-Thru Access
Optional Platform Configurations: Same Side Entry-Exit, 90 Degree Adjacent Access
Grab Rail: Optional
Maximum Stops: 3
Portable: No
SIMILAR PRODUCTS
HELLO. HOW CAN WE HELP?
Hours of Operations
Monday-Friday – 10 am – 5 pm
BY APPOINTMENT ONLY** PLEASE CALL FIRST. THANK YOU
8752 S. 78th Ave Bridgeview, IL. 60455
email: slipproof.ameriglide@gmail.com
Tel: 708-839-4775