VERTICAL PLATFORM LIFTS – Ameriglide Hercules 750 Portable
The AmeriGlide Hercules II DC 750 Portable is a practical addition to any commercial or residential application that requires wheelchair accessibility in more than one location. The DC 750 Portable can be moved between locations quickly and easily with its retractable casters and adjustable stabilizing screws.
The non-skid epoxy coated floor and galvanized steel panel is durable and weather resistant for outdoor applications, even in the harshest conditions.
A 750 pound weight capacity comes standard, great for lifting large wheelchairs.
The acme screw direct drive makes the 750 Portable the smoothest and quietest lift on the market. Being battery powered, the lift and its automatic self-lowering folding ramp (standard) will even work during a power outage.
Safety features include under platform obstruction detection, emergency stop switch, anti-skid floor surface, emergency alarm, and much more.
To learn more about the Hercules II DC 750 Portable Vertical Platform Lift, call and speak with our experienced VPL experts today.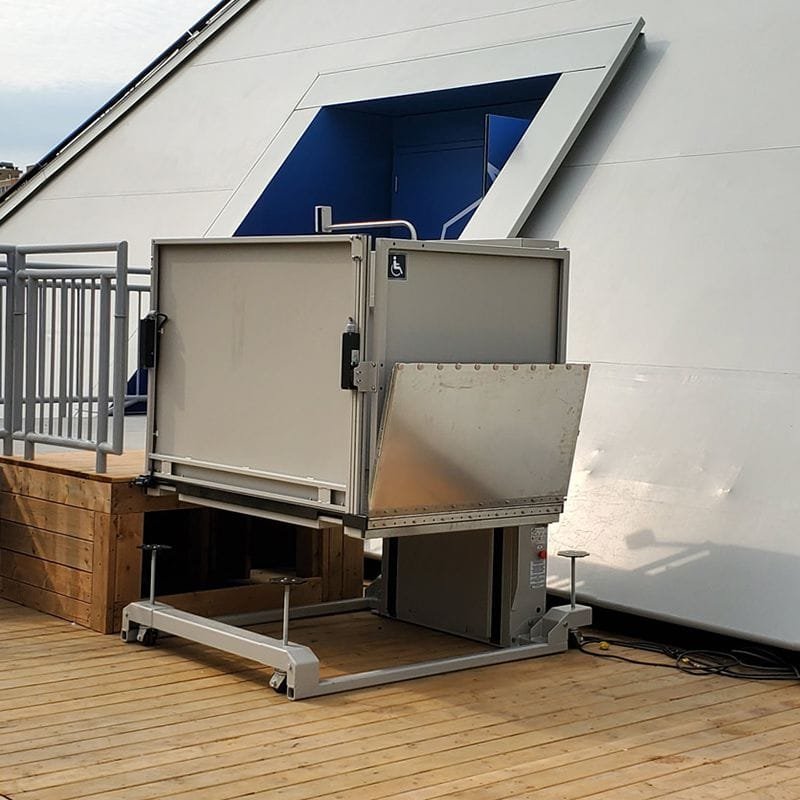 Product Specifications
Lifting Capacity: 750 lb
Standard Lift Height: 64″
Maximum Lift Height: 64″
Lift Speed (FPM): 9
Arrives Assembled: No
Drive System: Direct Drive ACME Screw
Battery Powered Option: Yes
Constant Pressure Platform Control: Yes
Alarm Button: Included
Platform Type: Non-skid (Epoxy crushed and recycled tires)
Platform Size: W 34″-36″ x L 54″-60″
Optional Platform Sizes: Custom: W (31″ to 42″) x L (46″ to 66″)
Platform Configuration: Straight-Thru Access
Optional Platform Configurations: 90 Degree Adjacent Access
Grab Rail: Optional
Maximum Stops: 2
Portable: Yes
SIMILAR PRODUCTS
HELLO. HOW CAN WE HELP?
Hours of Operations
Monday-Friday – 10 am – 5 pm
BY APPOINTMENT ONLY** PLEASE CALL FIRST. THANK YOU
8752 S. 78th Ave Bridgeview, IL. 60455
email: slipproof.ameriglide@gmail.com
Tel: 708-839-4775