VERTICAL PLATFORM LIFTS – Ameriglide Hercules 750 Residential
At Slip-Proof Safety, we know home is where the heart is, which is why we work hard to provide affordable products that will allow people to safely stay in their homes for as long as possible. A residential vertical platform lift can help you overcome obstacles and maintain your independence. Our selection of lifts includes permanent and portable models and impressive weight capacities, which makes them capable of transporting both you and your mobility scooter or wheelchair among the different levels of your home. In addition, every model is constructed using the high-quality components and manufactured to meet and exceed national safety standards.
Home should be a place free of worries – and with a vertical platform lift, we hope you'll worry just a little bit less about the things that prevent you from fully using your home.
For worry-free customization and ordering, call our vertical platform lift experts at (708) 839-4775.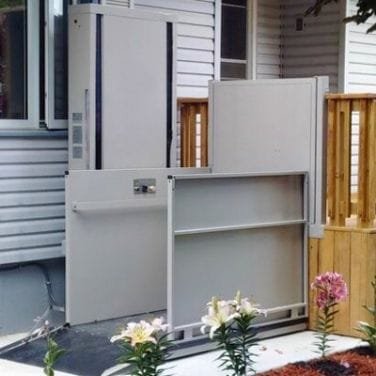 Product Specifications
Lifting Capacity: 750 lb
Standard Lift Height: 64″
Maximum Lift Height: 160″
Lift Speed (FPM): 12
Arrives Assembled: No
Drive System: Direct Drive ACME Screw
Battery Powered Option: Yes
Constant Pressure Platform Control: Yes
Alarm Button: Included
Platform Type: Non-skid (Epoxy crushed and recycled tires)
Platform Size: W 34″-36″ x L 54″-60″
Optional Platform Sizes: Custom: W (31″ to 42″) x L (46″ to 66″)
Platform Configuration: Straight-Thru Access
Optional Platform Configurations: Same Side Entry-Exit, 90 Degree Adjacent Access
Grab Rail: Not included
Maximum Stops: 3
Portable: Optional
SIMILAR PRODUCTS
HELLO. HOW CAN WE HELP?
Hours of Operations
Monday-Friday – 10 am – 5 pm
BY APPOINTMENT ONLY** PLEASE CALL FIRST. THANK YOU
8752 S. 78th Ave Bridgeview, IL. 60455
email: slipproof.ameriglide@gmail.com
Tel: 708-839-4775