STAIR LIFTS – Harmar Pinnacle Stair Lift-HD
Need a lift? The Pinnacle SL600HD is here to help you take that step towards accessing every floor in your home. With a higher lifting capacity of 600 lb, this seat is here to ensure you have a secure and comfortable ride to the next floor.
No grease or lubrication equals no mess! Cleaner for you, your home, and pets.
Efficient motor with a nylon polymer gear/worm drive provides a smooth ride and up to 60 up and down cycles on batteries during a power outage.
The high-backed, extra wide chair, stationary armrests, and reinforced footrest offer stability for rides and transfers.
Safety first! Buckle up with the retractable seat belt for a safer trip up and down your stairs.
Industry-best 600 lb capacity
Seat swivels 85° at the upper landing for easy dismount or transfer
Up to 40′ of travel
Patented helical worm gear drive system for a smooth and quiet ride
Low Maintenance
Operating control in the armrest
Comfortable, plush upholstered seat
Safety sensors in the footrest and chassis will stop the lift if it meets an onstruction
Options/Accessories: Key lock to protect against unauthorized use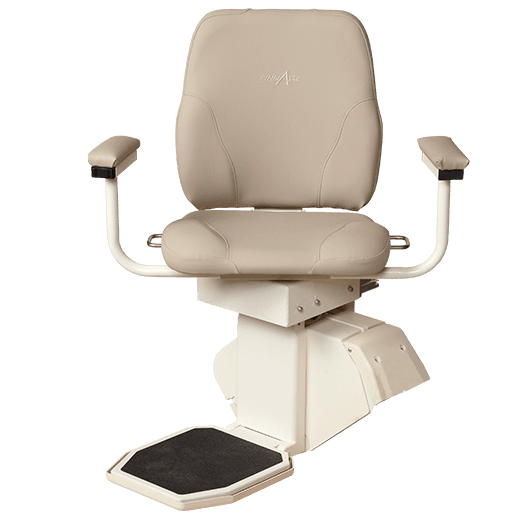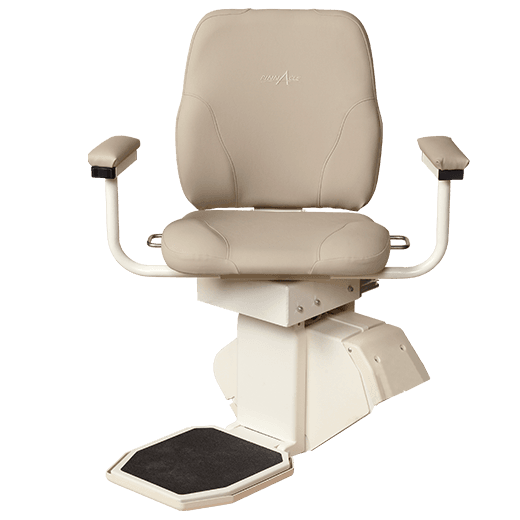 Product Specifications

Weight capacity600 lb (272 kg)
Incline Limits27° – 48° (inclines above 45° may require local jurisdiction approval)
Speed14 FPM
Folded Width17″ from wall
Track Length15'6″ standard; up to 40′
Seat size18.5″ x 14″
Drive SystemPatented Nylon Polymer Helical Worm Gear
Power24V DC
OutdoorNo
Safety Features• Obstruction sensors
• 85° seat swivel interlock
• Seat belt
• Centrifugal overspeed brake
Options• Key lock
• Extra rail
• Manual lowering tool
A FEW OF OUR OTHER HELPFUL PRODUCTS
HELLO. HOW CAN WE HELP?
Hours of Operations
Monday-Friday – 10 am – 5 pm
BY APPOINTMENT ONLY** PLEASE CALL FIRST. THANK YOU
8752 S. 78th Ave Bridgeview, IL. 60455
email: slipproof.ameriglide@gmail.com
Tel: 708-839-4775