STAIR LIFTS – Brooks Outdoor Stair Lift
The Brooks Outdoor Stairlift is the gold standard in stair access and is custom fitted to your steps or stairs. Our consultants will be happy to visit your home to discuss your requirements and carry out a no-obligation survey.
Brooks Stairlifts are built to last, with low maintenance and high reliability. They run on maintenance free DC Power packs, which are automatically recharged at the end of every trip. This also means your Stairlift is whisper quiet and incredibly smooth. Even if there is a power cut the Stairlift glides smoothly to its destination.
Shortly after ordering, a fully trained engineer will visit you to install and test your stairlift and also make sure you feel fully at home at the controls.
Features:
Soft start and stop system – no sudden jolts
Easy to use joystick control
Remote control system – means no messy wiring
Low voltage operation – eliminates risk of shock
Electro mechanical braking with fail-safe over speed governor
1 Year warranty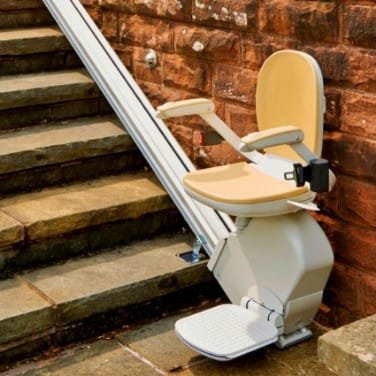 Product Specifications
Drive Type: Polymer Worm / Worm-Rack
Battery Powered: Yes
Self Installable: Yes
Basic Installation Included: No
Standard Capacity: 350 lb
Max Track Length, Standard: 15.5′
Max Track Length, Optional: 70′
Track Material: Aluminum
Seat Width, Min: 19.5″
Swivel Seat: Yes
Flip-Up Seat: Yes
Flip-Up Armrests: Yes
Constant Pressure Controls: Yes
Footrest Safety Sensor: Yes
Call Stations Included: Wireless
Digital Diagnostics Display: No
Unit Footprint, In Use: 22.5″
Unit Footprint, Parked: 11″
Track Width: 4.875″
Track Footprint: 7″
Power Cord Lengths: 10′ with the charger box in the middle
Key Lock: No
A FEW OF OUR OTHER HELPFUL PRODUCTS
HELLO. HOW CAN WE HELP?
Hours of Operations
Monday-Friday – 10 am – 5 pm
BY APPOINTMENT ONLY** PLEASE CALL FIRST. THANK YOU
8752 S. 78th Ave Bridgeview, IL. 60455
email: slipproof.ameriglide@gmail.com
Tel: 708-839-4775