STAIR LIFTS – Ameriglide Rubex AC Stair Lift
Built for Safety. Every detail of our Rubex electric powered stairlift is designed with your safety in mind. We build safety sensors into the footrest, include a locking mechanism in the seat belt, and give the motor instant reversing capability. With automatic limits at each end of the track, standard mechanical and electrical slack cable safety devices, and a fail-safe mechanism that prevents operation until the seat is in the correct position, this stairlift is one of the safest on the market today. It is ETL listed and meets ASME A17.1 and A18 safety standards for public and private use. We also include call stations for both top and bottom landings, which can be mounted to the wall or to the floor.
Unbelievably, the AmeriGlide Rubex electric powered stair lift simply plugs into the nearest outlet. No special wiring is needed! It can be installed on either the right-hand or left-hand side of your staircase; you can even switch it from side to side without any additional parts.
Sleek Design Compliments Any Decor. The AmeriGlide Rubex electric powered stair lift is available in an attractive almond finish with your choice of vinyl seat color. When not in use, you can easily fold up the padded seat and flip up the footrest and your stair lift only takes up 14 inches of space. It's so compact, other people in your household always have full use of the stairs.
Questions? Contact one of our stair lift experts to find out more about how the Rubex electric powered stair lift fits your life.
Note: weight capacity is reduced to 250 pounds if track length is 16 feet and longer.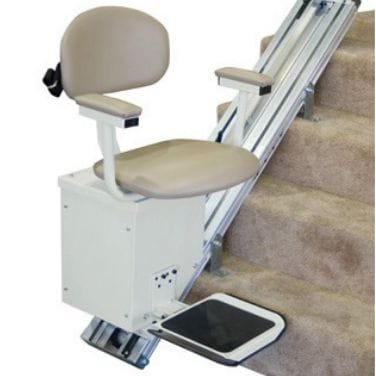 Product Specifications
Drive Type: Cable
Battery Powered: No
Self Installable: Yes
Basic Installation Included: No
Standard Capacity: 350 lb
Max Track Length, Standard: 15′
Max Track Length, Optional: 25′
Rail Angle, Min: 30°
Rail Angle, Max: 45°
Track Material: Aluminum
Seat Width, Min: 17.5″
Seat Depth: 14″
Swivel Seat: Yes
Flip-Up Seat: Yes
Flip-Up Armrests: No
Constant Pressure Controls: Yes
Footrest Safety Sensor: Yes
Call Stations Included: Yes – Wired
Digital Diagnostics Display: No
Unit Footprint, In Use: 24.25″
Unit Footprint, Parked: 14″
Track Width: 8″
Track Footprint: 12″
Key Lock: No
A FEW OF OUR OTHER HELPFUL PRODUCTS
HELLO. HOW CAN WE HELP?
Hours of Operations
Monday-Friday – 10 am – 5 pm
BY APPOINTMENT ONLY** PLEASE CALL FIRST. THANK YOU
8752 S. 78th Ave Bridgeview, IL. 60455
email: slipproof.ameriglide@gmail.com
Tel: 708-839-4775