STAIR LIFTS – AMERIGLIDE Rave Curved HD Stair Lift
The AmeriGlide Rave Curved HD Stair Lift is one of a kind, made just for you and assembled in the USA. The design is crafted to fit your needs, staircase, and décor.
This stair lift is built to last. Every staircase that is fitted with a AmeriGlide Rave Curved HD is measured with a calibrated camera kit for digital accuracy. Constructed with highly durable steel, custom precision-bent rails, and finished by experienced craftsmen, this true curved rail is highly engineered to give you an extraordinarily smooth ride.
Your unique path to independence will allow you to enjoy time with your family and your home on every level giving you independence, freedom and the quality of life you deserve.
The build and delivery methods also allow installers to work more quickly and efficiently when they arrive at your home. The lift can be installed with minimal disruptions to you.
Perfect for a stairway with a 90 degree turn, 180 degree, or even a spiral staircase. The AmeriGlide Rave Curved HD can even be built to accommodate multi-story applications.
An ergonomically-designed seat features swivel seat and "flip-up" arms to make entry and exit easier.
Custom color and fabric options are available to help make the AmeriGlide Rave Curved HD Stair Lift a tasteful addition to any home.
This stair lift must be installed by trained installers. It is not user installable. To learn more about your options and order your AmeriGlide Rave Curved HD Stair Lift stairlift, contact one of our stair lift experts today.
Additional Features:
Narrower profile
Extremely quiet, smooth ride
True-Curve rail with advanced bending technology creates smoother turns
Supportive, ergonomic seating
Simple-connect rails and lighter chassis for easy installation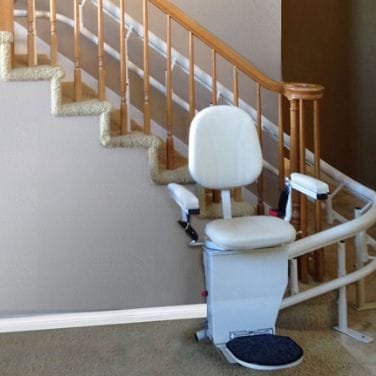 Product Specifications
Drive Type: Steel Rack and Pinion
Battery Powered: Yes
Self Installable: No
Basic Installation Included: No
Standard Capacity: 350 lb
Max Track Length, Standard: 18′
Max Track Length, Optional: 164′
Rail Angle, Max: 60°
Seat Width, Min: 21″
Seat Depth: 15″
Swivel Seat: Yes
Flip-Up Seat: Yes
Flip-Up Armrests: Yes
Constant Pressure Controls: Yes
Footrest Safety Sensor: Yes
Digital Diagnostics Display: No
Unit Footprint, Parked: 16″
Warranty: Limited Lifetime, 2-Year Parts, 1-Year Battery
Key Lock: No
A FEW OF OUR OTHER HELPFUL PRODUCTS
HELLO. HOW CAN WE HELP?
Hours of Operations
Monday-Friday – 10 am – 5 pm
BY APPOINTMENT ONLY** PLEASE CALL FIRST. THANK YOU
8752 S. 78th Ave Bridgeview, IL. 60455
email: slipproof.ameriglide@gmail.com
Tel: 708-839-4775