STAIR LIFTS – Creating Compassionate Independence
WHAT WE DO AND HOW WE DO IT
Save By Purchasing A Used Stair Lift Versus New
What's the Difference between New and Used?
With a used Stair Lift, the actual chair is re-used. However the track is still going to be a custom "cut" to fit your household. The other major component to a stair lift is the battery. Batteries are the #1 reason for maintenance on a stair lift and they are not covered under any warranty. This is because it is a "consumable"- much like on your automobile. Batteries will need to be replaced, whether you buy new or used, depending on usage, but usually every two years on average.
The chair is pre-owned
The track is cut to order
Manufacturer's have a lifetime warranty on motor!
Item most likely to need service, is the batterywhether NEW or USED and it is not covered under warranty.
Stairlifts can last 10-15 years based on proper fitting and environment.
We install used stairlift with new Duracell Batteries installed
We are safety experts – to help you stay home, with your independence.
We offer fast delivery and installation
We offer a warranty, even though its used!
Financing is also available.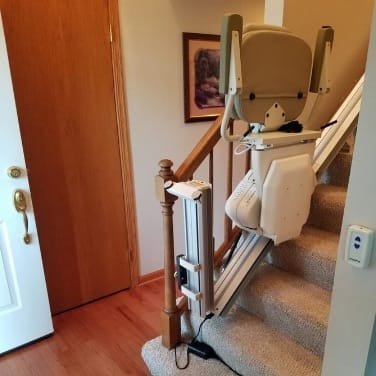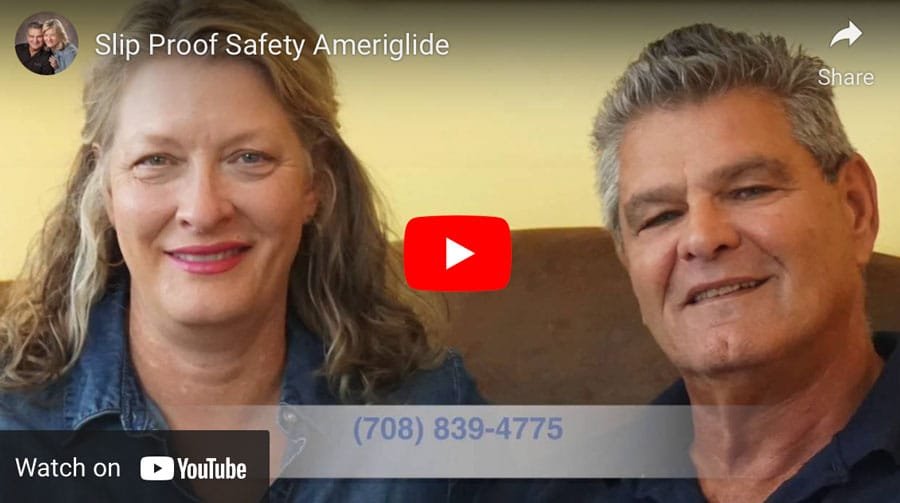 You are a good candidate for a used stairlift if you……
Want to stay home and stay independent
Live in a multi-level house with a straight stair case
You want to stretch your dollar and get great value
We only have 10 in stock. Call to see if its a good fit for you 708-839-4775
Premier Stair Lift Provider and Installer for the Chicagoland and Northwestern Indiana Area
New Brooks (Acorn manufactured) Straight Stair Lifts are also available
Reasons to choose Slip-Proof Safety
We are a local family owned business for over 15 years
Our installers are not outside contractors
We handle any maintenance issues directly
We accept cash, check or credit and offer in-house financing if necessary
We are the only company that buys back our units
We offer refurbished units when available
We have a rental program for short term needs
We keep stair lifts in stock and we can install next day in some cases
Our background is in home remodeling, we can handle those unusual cases.
Check out our additional products while you are here, such as Pride Chair Lift recliners, Pride Mobility Scooters and Powered Wheelchairs. Everything you need to make your home more accessible as your needs change. It is all here for you to check out at your leisure.
*Track is discretely secured to the flooring and the chair flips snuggly against the wall so that others can easily maneuver past it.
Slip-Proof Safety has the stairlift and wheelchair ramp solution that will make your home accessible. We have new stair lifts, used stair lift, refurbished stair lifts, rental stair lifts, and curved stair lifts available at low prices. We support the Chicagoland area , the suburbs and Northwestern Indiana with great pricing, rental options, buy back opportunities with reliable service and expert installation.
We can improve the accessibility of your home at a much lower price than moving or remodeling. Your entire home will be accessible while keeping you and your family safe and secure.
Slip-Proof Safety is the best source for stairlifts in the Chicago area. Make an appointment to visit our office or call to schedule a convenient home appointment.
We are open 365 days a year; however appointments must be made ahead of time for Sunday and Holiday visits and installations. Call 708-839-4775.
Service & Safety is our Top Priority!
Once you have decided that you need a indoor stair lift, or outdoor stair lift, we are available to make sure your receive the correct product and we provide the installation. We will send a safety specialist out to do a quick measure to ensure the proper stair lift is proposed. No matter what your situation, we provide you with the options to consider for your stair lift. Your stair lift is only as good as your installation. Our safety techs have been with us an average of 10 years, and we make a good team! We want you to be comfortable and confident in your choice for a stair lift and installation.
Realizing the critical nature of a stair lift, Slip-Proof Safety offers professional service, any day of the week from 8AM-9 PM. All stair lift models are designed with enough back up power to get you where you need to be in case of emergency, but because we are local – we back you up too!
Call us at 708-839-4775.
HELLO. HOW CAN WE HELP?
Hours of Operations
Monday-Friday – 10 am – 5 pm
BY APPOINTMENT ONLY** PLEASE CALL FIRST. THANK YOU
8752 S. 78th Ave Bridgeview, IL. 60455
email: slipproof.ameriglide@gmail.com
Tel: 708-839-4775